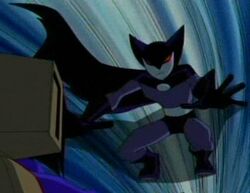 Kyd Wykkyd
is a villain in Teen Titans Go! He was originally the sixth and new member of the H.I.V.E. Five but he's not anymore. He's now his own villain. He's a dark villain with dark powers and he can't talk. He is voiced by nobody.
Appearance
Kyd Wykkyd is a white boy with a black thing on his head that goes like a mask that has kitty cat ears on it. He has red eyes and he has a purple shirt and black pants and a belt on.
Personality
Kyd Wyykyd is awesome and does everything by himself and he does it without talking.
He is a camper in Total Drama Titans
Ad blocker interference detected!
Wikia is a free-to-use site that makes money from advertising. We have a modified experience for viewers using ad blockers

Wikia is not accessible if you've made further modifications. Remove the custom ad blocker rule(s) and the page will load as expected.